Clutch & Brake Conversions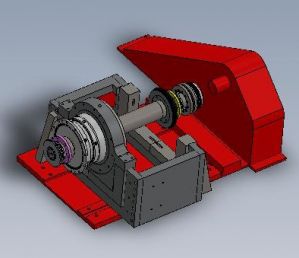 In addition to overhauling and supplying replacement plates and linings for Power Presses, MPPS has established a reputation for undertaking the installation design, press modifications and fitting of Clutch & Brake conversions on a wide range and makes of presses.
MPPS has experience of retrofitting Pneumatic and Hydraulic combined Clutch / Brake Units, and consults with the customer to provide the type of unit and maker best suited to their needs and budget.
The advantage of the modern combined Clutch / Brake Unit is that the design permits rapid and precise operating times at high operating frequencies. Furthermore the amount of maintenance of the combined unit is small.
An example of a recent conversion:

The installation of an Ortlinghaus Hydraulic Clutch / Press Brake Unit on a large Danly press where it was necessary to design, engineer and manufacture a new flywheel support pedestal and press brake arrestor fabrication complete with new bearings and retainers.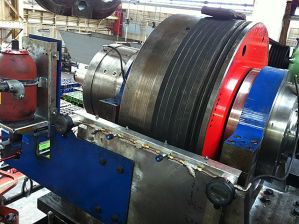 This pedestal fabrication had to be installed onto the existing press support fabrication requiring the design and manufacture of intermediate supports to align a new drive shaft coupling with the existing gearbox on the press.
No drawings of the existing drive installation were available and therefore it was necessary to survey the area at height on the press using a CMM Measuring Arm to create a data map from which a SolidWorks 3-D model and individual manufacturing drawings could be prepared.

This enabled the support pedestal and base to be pre-machined to fit accurately and correctly aligned on the press. This was important as the press would only be made available for a few days to install the conversion unit.
An added complication was the need to manufacture a new clutch shaft, clutch hub and half-quills to fit the flywheel (to support its weight). On the press being made available to us to work on, existing parts were stripped off, the Flywheel returned to MPPS for machining and fitting of half-quills, assemble the C&B Unit within the fabrication, deliver to site, install and test.
Click here to contact us about our clutch & brake conversions.