Our lifting equipment includes Iron Fairy mobile cranes and a Versa-Lift 40/60 Heavy Duty Fork Lift Truck. This means MPPS has the in-house capability of handling items from a single small capacity press right up to large heavy press components such as Crowns, Slides and Beds.

The 40/60 Versa-Lift can lift 40,000 lb (18.18 tonnes) with the base retracted or up to 60,000 lbs (27.27 tonnes) with the base extended. The Versa-Lift manoeuvrability and power makes this an ideal Fork Lift for machine dismantling, loading to / unloading from transport, and installation.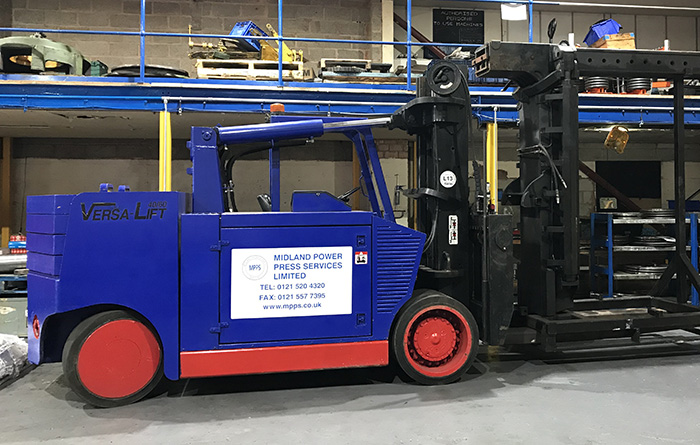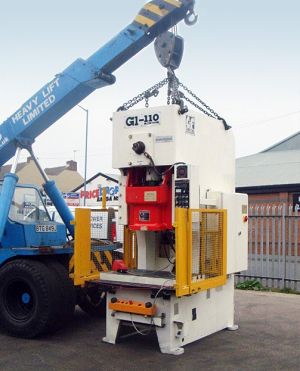 We offer customers a complete 'turnkey' service for relocating their existing presses and equipment or the installation of new machinery.
We are experts in assessing and planning the move, dismantling machinery and transporting presses and other machinery to new locations both within the UK and overseas. Our team will install the press and machinery at its new location, test and ensure it is up and running efficiently. Where specialist lifting equipment and/or packing is required this will be organised by us.
A dedicated MPPS Project Manager is allocated to the project and is the point of contact for the client. The service has been designed to take the stress out of the equation for the customer and help them save valuable logistics costs and prevent damage to the equipment in transit.
Recent machine relocation contracts include:
Planning and implementing the relocation of a complete press factory within the UK, whist ensuring minimal disruption to production and ongoing continuity of component and assembly supply to their end users.
Relocating press lines and automation equipment for a UK Tier 1 automotive manufacturer to improve shop layout and increase productivity.
Moving presses and machinery from the UK to Turkey, Spain and South Africa including packing, transportation.
Click here to contact us about our relocation service.