Electrical and Control Systems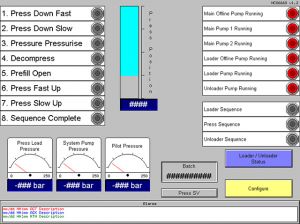 Electrical repairs is an important element of our service, with our experienced electrical engineers on call to respond to breakdowns, conduct safety checks and repairs not only on Power Presses but a complete range of machinery.
We also offer press control system upgrades including press re-wiring, replacement control panels, PLC controls for single press or integrated production cell with HMI system displaying machine operating condition and fault diagnostic displays.
All installations supplied are fully compliant with current health and safety standards, and we supply drawings and PLC programming documentation, as well as commissioning the new systems and training customer personnel.
We can provide specialists to undertake electrical and mechanical examination of Power Presses to HSG236 "thorough examination of power presses" requirements and report back on the condition of your machine.
Recent examples of replacement control systems supplied by MPPS include:
On a Progression Press line replace obsolete Servo Motor and Drive Module, NC control module, Operator VDU and Keyboard Programmer with modern PLC and Servo Controller with modern PLC system incorporating HMI and Servo controller with interfacing for part selection and parameter file compilation. Replace all safety switches and relays with units complying with current requirements. Write software programme, test, commission and train customer personnel.


Process Line forming metal components was equipped with new PLC control system, enabling the line to be speeded up. New control system controls for the operations of the expanding machine and integrate into the production line with Touch Screen Visualisation at the press plus remote control system positioned for machine "set up". Fault diagnosis displayed on operator screen. The expander machine control system includes a PLC HMI system. Control and monitoring of machine and handling system operations integrated into Line control system and into the customers Ethernet system.


Design, build and install new control panels on a range of Mechanical Trimming Presses used in the Forging industry.
Click here to contact us about our electrical services.