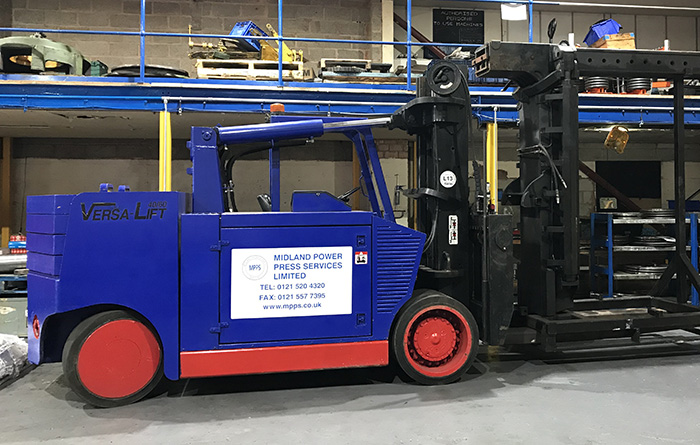 One of the UK's leading specialists in mechanical power presses has doubled its capacity after investing in a new building in Tipton.
Midland Power Press Services (MPPS), which provides repairs, spares, inspection and upgrades on over 100 different machines, now has over 10,000 sq ft of space split across dedicated machining and fitting shops.
The £300,000 investment on the expansion and the CNC machines comes on the back of a sustained period of growth, with new contracts from the metalworking, automotive and white goods sectors helping it push towards £3m turnover – the best 12 months in its near 30-year history.
In addition to the second site, the company has also bought a new Versa-Lift for £150,000, a unique forklift that has an extendable frame to help with the smooth and safe lifting of heavy machinery.
Josie Stevenson, Company Secretary at Midland Power Press Services, commented: "We have had an excellent 12 months as more manufacturers are looking at keeping their existing presses working longer and that's where we can really make a difference.
"Our team of engineers can refurbish, repair, service and upgrade over 100 different types of power press and this expertise has seen us win work for the likes of GKN, Glen Dimplex, Stadco, Tata Steel and Federal Mogul."
She continued: "Over the last three years, we have invested heavily in moving towards CNC machining, bringing certain services in-house and doubling our capacity so we are in a position to take on additional contracts. We now have enough space across the two units to offer confined space equipment, which is a big requirement when working with presses.
"The growth has also necessitated the need for five additional people, including a new Health and Safety Manager."
Established in 1980 in a small workshop in Wolverhampton, MPPS has grown from a one-man operation to a business employing a 30-strong team of skilled engineers.
At its base in the heart of the Black Country, the company offers pneumatics, machining, assembly and testing of mechanical assemblies and complex machines, with its electrical division - Flangecombe - vastly experienced in rewiring presses, designing, building and testing control panels.
It has also signed an agreement to become the exclusive UK sales agent for OMERA, an Italian-based supplier of beading machines and presses.
This means for the first time that Midland Power Press Services can provide new equipment ranging from mechanical and hydraulic presses to fully automatic lines.
"The recent open day was a huge success, attracting over 100 people," continued Josie.
"There has been a lot of changes here and we wanted to show new and existing customers/suppliers exactly what we can offer, including the new machining shop and the state-of-the-art design software we are using to help identify issues for the customer."
She concluded: "If the order pipeline continues as it is, we'll enter our 30th year on course for £4m."
MPPS, which is working its way towards ISO 9001 accreditation, is a real family affair, with Josie's partner Bob Crow at the helm with her, alongside daughter Ruth Harper and sons Paul and Simon.